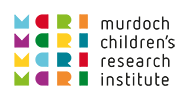 7th Vera Scantlebury Brown Memorial Lecture presented by Professor Harriet Hiscock
Published

Thursday, July 25, 2019 - 12:00 PM
Have you checked the children? Mental health care for young Australian children: what is wrong and what can we do about it? 
Presented by Professor Harriet Hiscock
Date and Time: Wednesday 21 August 2019, 6:00 PM – 7:00 PM
Location: David Penington Theatre, Bio21 Institute, 30 Flemington Rd, Parkville, VIC 3052
Free to attend but RSVP to gr-mc@unimelb.edu.au
One in seven Australian children have a mental health problem but fewer than half get help. More children are coming to Victorian Emergency Departments in mental health crisis and families wait up to 6 months to see a community clinician for support. A two-sector public vs private health system is further disadvantaging families who cannot afford out-of-pocket costs for mental health care. Why is this happening and what can we do about it? Drawing upon her research into the Australian mental healthcare system and family and clinician voices, Professor Harriet Hiscock, like Dr Vera Scantlebury Brown, is using data to drive improvements in care for young children. Innovative models are needed if we are to ensure mental health care that is accessible and affordable to Australian children and their families.
Browse by year
Proudly in partnership with