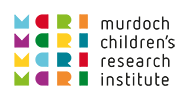 Our Partners
We have partnered with the Wyndham City Council in Victoria and the Inner West Council in New South Wales. We will co-design and implement our community Hub services in both Wyndham Vale (VIC) and in Marrickville (NSW) communities.
In Wyndham, we have partnered with the Wyndham Vale IPC Health Community Health Centre. Here, we will test and evaluate our community Hub model of care. 

We have also partnered with universities, government agencies and non-government organisations to develop and deliver this program of work.
The official partners are: Murdoch Children's Research Institute, Beyond Blue, The University of Melbourne, Parenting Research Centre, Monash University, University of New South Wales, Wyndham City Council, North Western Primary Health Network, Queensland Children's Hospital, Sydney Local Health District, Healthy Homes and Neighbourhoods, IPC Health, Sydney Institute for Women, Children and their Families, PANDA and Health Justice Australia.
If you or your organisation would like to discuss a potential partnership with the Centre of Research Excellence in Childhood Adversity and Mental Health please get in contact with us.
Proudly in partnership with