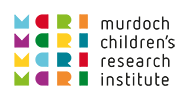 Screening for Adverse Childhood Experiences in Children. A systematic review
Published

Tuesday, February 22, 2022 - 12:00 PM
Congratulations to Sarah and the team on their recent publication in the Journal of Pediatrics! This systematic review sought to explore whether screening for ACEs in children leads to an increase in:
identification of ACEs;
referrals to services;
increased uptake of services; and
improved mental health outcomes for children and parents.
Check out this short and engaging video abstract that Sarah put together (below). You can also read more here .
Proudly in partnership with